About Us
Premier Pizza is a Pizza takeaway in Leeds. Why don't you try our London Pizza or Chicken Tikka & Chips?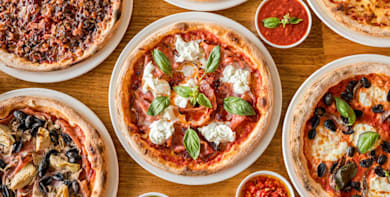 Reviews
190 reviews
Chloe
"Always can rely on these guys! Quick delivery and always hot and fresh!! Just had an order that arrived in 15 minute of ordering :)"
04/08/2022
Alice
"Absolutely amazing like always red hot when it arrives and just nom nom …… nom"
23/07/2022
Sharon
"Delicious"
22/07/2022
Chelsea
"Never a bad word to say 👍🏼"
07/07/2022
Menu
Large Bottles (1.5ltr) 7 Up Large Bottle 1.5ltr
£2.50
Large Bottles (1.5ltr) Coke Large Bottle 1.5ltr
£2.50
Large Bottles (1.5ltr) Diet Coke Large Bottle 1.5ltr
£2.50
Large Bottles (1.5ltr) Pepsi Large Bottle 1.5ltr
£2.50
Bottles (500ml) Coke Bottle 500ml
£1.50
Bottles (500ml) Oasis Citrus Punch Bottle 500ml
£1.50
Bottles (500ml) Oasis Summer Fruits Bottle 500ml
£1.50
Cans (330ml) Dr. Pepper Can 330ml
£0.99
Cans (330ml) 7 Up Can 330ml
£1.00
Cans (330ml) Coke Can 330ml
£1.00
Cans (330ml) Diet Coke Can 330ml
£1.00
Cans (330ml) Diet Pepsi Can 330ml
£1.00
Cans (330ml) Fanta Can 330ml
£1.00
Cans (330ml) Irn Bru Can 330ml
£1.00
Cans (330ml) Pepsi Can 330ml
£1.00
Cans (330ml) Rubicon Guava Can 330ml
£1.00
Cans (330ml) Rubicon Mango Can 330ml
£1.00
Cans (330ml) Vimto Can 330ml
£1.00
Any 2 x 12'' Pizza, Garlic Bread with Cheese, 3 x Fries & Large Bottle of Pepsi
£21.99
Any 12" Pizza
2 Cans Pepsi & Large Fries
£11.99
Value Box 3
BBQ Chicken Burger
2x BBQ Chicken Wings
Chicken Strip
Fries
Can of Pepsi
Dip
£7.99
Value Box 2
Peri Peri Fillet Burger served with salad
2x Peri Peri Wings
Chicken Strip
Fries
Can of Pepsi
Dip
£7.99
Value Box 1
Chicken Fillet Burger served with salad
2x Chicken Wings
Chicken Strip
Fries
Can of Pepsi
Dip
£7.99
Any Wrap
A Can of Pepsi & Fries
£6.00
Large Donner Kebab in Pitta
With pepsi & fries. Served with salad & chilli sauce
£7.50
Any 3 x 12'' Pizza
Bottle of Pepsi & 3 Fries
£23.99
Any 2 x 12'' Pizza
2 Cans of Pepsi & Large Fries
£17.99
Any 14'' Pizza
With 2 Cans of Pepsi & Large Fries
£12.99
Boneless Box
3x Chicken Strips
4x Chicken Bites
Popcorn Chicken
Fries
Can of Pepsi
Dip
£7.99
2 x Medium Donner Kebab
2 Cans of Pepsi & Fries
£12.00
Medium Donner Kebab
With a Can of Pepsi & Fries
£6.50
Any 9'' Pizza
With a Can of Pepsi & Fries
£7.49
Any 12'' Pizza
With a Can of Pepsi & Fries
£9.99
Any 2 x 14'' Pizzas
With Bottle of Pepsi
£19.99
Any Quarter Pounder Burger
With a Can of Pepsi & Fries
£5.99
Any 2 x Quarter Pounder Burgers
With 2 x Fries & 2 Cans of Pepsi
£12.00
Mixed Donner Kebab
With a Can of Pepsi
£7.99
Tuna Pizza 09'' Deep
Cheese & tuna
£6.50
Tuna Pizza 12'' Thin
Cheese & tuna
£7.75
Tuna Pizza 12'' Deep
Cheese & tuna
£8.75
Tuna Pizza 14'' Thin
Cheese & tuna
£9.85
Tandoori Supreme Pizza 09'' Deep
Tandoori chicken, onions, peppers & garlic butter
£6.80
Tandoori Supreme Pizza 12'' Thin
Tandoori chicken, onions, peppers & garlic butter
£7.90
Tandoori Supreme Pizza 12'' Deep
Tandoori chicken, onions, peppers & garlic butter
£8.90
Tandoori Supreme Pizza 14'' Thin
Tandoori chicken, onions, peppers & garlic butter
£10.90
Hot Feast Pizza 09'' Deep
Salami, pepperoni, onions, peppers, chilli powder & garlic butter
£6.80
Hot Feast Pizza 12'' Thin
Salami, pepperoni, onions, peppers, chilli powder & garlic butter
£7.90
Hot Feast Pizza 12'' Deep
Salami, pepperoni, onions, peppers, chilli powder & garlic butter
£8.90
Hot Feast Pizza 14'' Thin
Salami, pepperoni, onions, peppers, chilli powder & garlic butter
£10.90
Ham & Mushroom Pizza 09'' Deep
Turkey ham & mushroom
£6.50
Ham & Mushroom Pizza 12'' Thin
Turkey ham & mushroom
£7.75
Ham & Mushroom Pizza 12'' Deep
Turkey ham & mushroom
£8.75
Ham & Mushroom Pizza 14'' Thin
Turkey ham & mushroom
£9.85
Seafood Special Pizza 09'' Deep
Tuna, prawns & garlic butter
£6.90
Seafood Special Pizza 12'' Thin
Tuna, prawns & garlic butter
£8.50
Seafood Special Pizza 12'' Deep
Tuna, prawns & garlic butter
£8.90
Seafood Special Pizza 14'' Thin
Tuna, prawns & garlic butter
£10.99
Meat Feast Pizza 09'' Deep
Salami, pepperoni, chicken, donner meat & garlic butter
£6.90
Meat Feast Pizza 12'' Thin
Salami, pepperoni, chicken, donner meat & garlic butter
£8.50
Meat Feast Pizza 12'' Deep
Salami, pepperoni, chicken, donner meat & garlic butter
£8.90
Meat Feast Pizza 14'' Thin
Salami, pepperoni, chicken, donner meat & garlic butter
£10.99
Vegetarian Pizza 09'' Deep
Mushroom, onions, peppers, sweetcorn & garlic butter
£6.50
Vegetarian Pizza 12'' Thin
Mushroom, onions, peppers, sweetcorn & garlic butter
£7.75
Vegetarian Pizza 12'' Deep
Mushroom, onions, peppers, sweetcorn & garlic butter
£8.75
Vegetarian Pizza 14'' Thin
Mushroom, onions, peppers, sweetcorn & garlic butter
£9.85
Premier's Special Pizza 09'' Deep
A bit of almost everything
£6.90
Premier's Special Pizza 12'' Thin
A bit of almost everything
£8.50
Premier's Special Pizza 12'' Deep
A bit of almost everything
£8.90
Premier's Special Pizza 14'' Thin
A bit of almost everything
£10.99
Pepperoni & Salami Pizza 09'' Deep
Cheese, pepperoni & salami
£6.50
Pepperoni & Salami Pizza 12'' Thin
Cheese, pepperoni & salami
£7.75
Pepperoni & Salami Pizza 12'' Deep
Cheese, pepperoni & salami
£8.75
Pepperoni & Salami Pizza 14'' Thin
Cheese, pepperoni & salami
£9.85
Vegetarian Hot Pizza 09'' Deep
Onions, mushrooms, peppers, jalapenos, green chillies & garlic butter
£6.80
Vegetarian Hot Pizza 12'' Thin
Onions, mushrooms, peppers, jalapenos, green chillies & garlic butter
£7.90
Vegetarian Hot Pizza 12'' Deep
Onions, mushrooms, peppers, jalapenos, green chillies & garlic butter
£8.90
Vegetarian Hot Pizza 14'' Thin
Onions, mushrooms, peppers, jalapenos, green chillies & garlic butter
£10.90
Four Cheese Pizza 09'' Deep
A combination of four different cheese
£5.80
Four Cheese Pizza 12'' Thin
A combination of four different cheese
£6.80
Four Cheese Pizza 12'' Deep
A combination of four different cheese
£7.80
Four Cheese Pizza 14'' Thin
A combination of four different cheese
£9.50
Pepperoni Pizza 09'' Deep
£5.80
Pepperoni Pizza 12'' Thin
£6.80
Pepperoni Pizza 12'' Deep
£7.80
Pepperoni Pizza 14'' Thin
£9.50
Create Your Own Pizza 14'' Thin
Choose any 4 toppings
£11.95
Create Your Own Pizza 09''
Choose any 4 toppings
£7.50
Create Your Own Pizza 12''
Choose any 4 toppings
£9.95
Tuna Delight Pizza 09'' Deep
Tuna, onions, peppers & garlic butter
£6.80
Tuna Delight Pizza 12'' Thin
Tuna, onions, peppers & garlic butter
£7.90
Tuna Delight Pizza 12'' Deep
Tuna, onions, peppers & garlic butter
£8.90
Tuna Delight Pizza 14'' Thin
Tuna, onions, peppers & garlic butter
£10.90
Vegetarian Special Pizza 09'' Deep
Onions, mushrooms, peppers, sweet juicy chunks of pineapple & sweetcorn
£6.80
Vegetarian Special Pizza 12'' Thin
Onions, mushrooms, peppers, sweet juicy chunks of pineapple & sweetcorn
£7.90
Vegetarian Special Pizza 12'' Deep
Onions, mushrooms, peppers, sweet juicy chunks of pineapple & sweetcorn
£8.90
Vegetarian Special Pizza 14'' Thin
Onions, mushrooms, peppers, sweet juicy chunks of pineapple & sweetcorn
£10.90
Peri Peri Pizza 09'' Deep
Peri peri sauce, peri peri chicken, onions, peppers & jalapenos
£6.80
Peri Peri Pizza 12'' Thin
Peri peri sauce, peri peri chicken, onions, peppers & jalapenos
£7.90
Peri Peri Pizza 12'' Deep
Peri peri sauce, peri peri chicken, onions, peppers & jalapenos
£8.90
Peri Peri Pizza 14'' Thin
Peri peri sauce, peri peri chicken, onions, peppers & jalapenos
£10.90
Margherita Pizza 09'' Deep
Premier's special recipe sauce topped with cheese
£5.60
Margherita Pizza 12'' Thin
Premier's special recipe sauce topped with cheese
£6.80
Margherita Pizza 12'' Deep
Premier's special recipe sauce topped with cheese
£7.50
Margherita Pizza 14'' Thin
Premier's special recipe sauce topped with cheese
£8.99
Salami Pizza 09'' Deep
Cheese & salami
£5.80
Salami Pizza 12'' Thin
Cheese & salami
£6.80
Salami Pizza 12'' Deep
Cheese & salami
£7.80
Salami Pizza 14'' Thin
Cheese & salami
£9.50
Chicken & Sweetcorn Pizza 09'' Deep
£6.50
Chicken & Sweetcorn Pizza 12'' Thin
£7.75
Chicken & Sweetcorn Pizza 12'' Deep
£8.75
Chicken & Sweetcorn Pizza 14'' Thin
£9.85
Pepperoni Hot Pizza 09'' Deep
Pepperoni, peppers, chilli powder & garlic butter
£6.50
Pepperoni Hot Pizza 12'' Thin
Pepperoni, peppers, chilli powder & garlic butter
£7.75
Pepperoni Hot Pizza 12'' Deep
Pepperoni, peppers, chilli powder & garlic butter
£8.75
Pepperoni Hot Pizza 14'' Thin
Pepperoni, peppers, chilli powder & garlic butter
£9.85
Double Pepperoni Pizza 09'' Deep
Double cheese & double pepperoni
£6.90
Double Pepperoni Pizza 12'' Thin
Double cheese & double pepperoni
£8.50
Double Pepperoni Pizza 12'' Deep
Double cheese & double pepperoni
£8.90
Double Pepperoni Pizza 14'' Thin
Double cheese & double pepperoni
£10.99
Spicy Donner Pizza 09'' Deep
Donner, onion, peppers & green chillies
£6.50
Spicy Donner Pizza 12'' Thin
Donner, onion, peppers & green chillies
£7.75
Spicy Donner Pizza 12'' Deep
Donner, onion, peppers & green chillies
£8.75
Spicy Donner Pizza 14'' Thin
Donner, onion, peppers & green chillies
£9.85
London Pizza 09'' Deep
Cheese & tomato pizza topped with fries & served with your choice of dip
£6.50
London Pizza 12'' Thin
Cheese & tomato pizza topped with fries & served with your choice of dip
£7.75
London Pizza 12'' Deep
Cheese & tomato pizza topped with fries & served with your choice of dip
£8.75
London Pizza 14'' Thin
Cheese & tomato pizza topped with fries & served with your choice of dip
£9.85
Bolognese Pizza 09'' Deep
Premier's special recipe bolognese sauce topped with cheese
£6.50
Bolognese Pizza 12'' Thin
Premier's special recipe bolognese sauce topped with cheese
£7.75
Bolognese Pizza 12'' Deep
Premier's special recipe bolognese sauce topped with cheese
£8.75
Bolognese Pizza 14'' Thin
Premier's special recipe bolognese sauce topped with cheese
£9.85
Fusion Pizza 09'' Deep
Chicken, tandoori chicken, BBQ chicken, piri piri chicken & garlic butter
£6.90
Fusion Pizza 12'' Thin
Chicken, tandoori chicken, BBQ chicken, piri piri chicken & garlic butter
£8.50
Fusion Pizza 12'' Deep
Chicken, tandoori chicken, BBQ chicken, piri piri chicken & garlic butter
£8.90
Fusion Pizza 14'' Thin
Chicken, tandoori chicken, BBQ chicken, piri piri chicken & garlic butter
£10.99
Chicken & Pineapple Pizza 09'' Deep
Cheese, chicken & pineapple
£6.50
Chicken & Pineapple Pizza 12'' Thin
Cheese, chicken & pineapple
£7.75
Chicken & Pineapple Pizza 12'' Deep
Cheese, chicken & pineapple
£8.75
Chicken & Pineapple Pizza 14'' Thin
Cheese, chicken & pineapple
£9.85
Donner & Chicken Pizza 09'' Deep
Chicken, donner, onion, peppers & garlic butter
£6.80
Donner & Chicken Pizza 12'' Thin
Chicken, donner, onion, peppers & garlic butter
£7.90
Donner & Chicken Pizza 12'' Deep
Chicken, donner, onion, peppers & garlic butter
£8.90
Donner & Chicken Pizza 14'' Thin
Chicken, donner, onion, peppers & garlic butter
£10.90
Chicken Supremo Pizza 09'' Deep
Plain chicken, onion, peppers, sweetcorn, chilli powder & garlic butter
£6.80
Chicken Supremo Pizza 12'' Thin
Plain chicken, onion, peppers, sweetcorn, chilli powder & garlic butter
£7.90
Chicken Supremo Pizza 12'' Deep
Plain chicken, onion, peppers, sweetcorn, chilli powder & garlic butter
£8.90
Chicken Supremo Pizza 14'' Thin
Plain chicken, onion, peppers, sweetcorn, chilli powder & garlic butter
£10.90
Donner King Pizza 09'' Deep
Tomato sauce, double donner & onions
£6.80
Donner King Pizza 12'' Thin
Tomato sauce, double donner & onions
£7.90
Donner King Pizza 12'' Deep
Tomato sauce, double donner & onions
£8.90
Donner King Pizza 14'' Thin
Tomato sauce, double donner & onions
£10.90
Ham & Pineapple Pizza 09'' Deep
Turkey ham & sweet juicy
£6.50
Ham & Pineapple Pizza 12'' Thin
Turkey ham & sweet juicy
£7.75
Ham & Pineapple Pizza 12'' Deep
Turkey ham & sweet juicy
£8.75
Ham & Pineapple Pizza 14'' Thin
Turkey ham & sweet juicy
£9.85
Tandoori Hot Pizza 09'' Deep
Cheese, tandoori chicken, red onions, green chillies, peppers & jalapenos
£6.80
Tandoori Hot Pizza 12'' Thin
Cheese, tandoori chicken, red onions, green chillies, peppers & jalapenos
£7.90
Tandoori Hot Pizza 12'' Deep
Cheese, tandoori chicken, red onions, green chillies, peppers & jalapenos
£8.90
Tandoori Hot Pizza 14'' Thin
Cheese, tandoori chicken, red onions, green chillies, peppers & jalapenos
£10.90
Bolognese Mushroom Pizza 09'' Deep
Premier's special recipe bolognese sauce topping with cheese & mushrooms
£6.80
Bolognese Mushroom Pizza 12'' Thin
Premier's special recipe bolognese sauce topping with cheese & mushrooms
£7.90
Bolognese Mushroom Pizza 12'' Deep
Premier's special recipe bolognese sauce topping with cheese & mushrooms
£8.90
Bolognese Mushroom Pizza 14'' Thin
Premier's special recipe bolognese sauce topping with cheese & mushrooms
£10.90
BBQ Meat Feast Pizza 09'' Deep
BBQ sauce, turkey ham, pepperoni, spicy beef, chicken & BBQ drizzle sauce
£6.80
BBQ Meat Feast Pizza 12'' Thin
BBQ sauce, turkey ham, pepperoni, spicy beef, chicken & BBQ drizzle sauce
£7.90
BBQ Meat Feast Pizza 12'' Deep
BBQ sauce, turkey ham, pepperoni, spicy beef, chicken & BBQ drizzle sauce
£8.90
BBQ Meat Feast Pizza 14'' Thin
BBQ sauce, turkey ham, pepperoni, spicy beef, chicken & BBQ drizzle sauce
£10.90
Hot Shot Pizza 09'' Deep
Salami, pepperoni, mushroom, peppers, chilli powder & garlic butter
£6.80
Hot Shot Pizza 12'' Thin
Salami, pepperoni, mushroom, peppers, chilli powder & garlic butter
£7.90
Hot Shot Pizza 12'' Deep
Salami, pepperoni, mushroom, peppers, chilli powder & garlic butter
£8.90
Hot Shot Pizza 14'' Thin
Salami, pepperoni, mushroom, peppers, chilli powder & garlic butter
£10.90
Pepperoni & Donner Pizza 09'' Deep
Donner meat & pepperoni
£6.80
Pepperoni & Donner Pizza 12'' Thin
Donner meat & pepperoni
£7.90
Pepperoni & Donner Pizza 12'' Deep
Donner meat & pepperoni
£8.90
Pepperoni & Donner Pizza 14'' Thin
Donner meat & pepperoni
£10.90
Chicken Balti Supreme Pizza 09'' Deep
Tandoori chicken, onions, peppers, sweetcorn & garlic butter
£6.80
Chicken Balti Supreme Pizza 12'' Thin
Tandoori chicken, onions, peppers, sweetcorn & garlic butter
£7.90
Chicken Balti Supreme Pizza 12'' Deep
Tandoori chicken, onions, peppers, sweetcorn & garlic butter
£8.90
Chicken Balti Supreme Pizza 14'' Thin
Tandoori chicken, onions, peppers, sweetcorn & garlic butter
£10.90
Chicken & Mushroom Pizza 09'' Deep
£6.50
Chicken & Mushroom Pizza 12'' Thin
£7.75
Chicken & Mushroom Pizza 12'' Deep
£8.75
Chicken & Mushroom Pizza 14'' Thin
£9.85
Garlic Margherita Pizza 09'' Deep
£5.80
Garlic Margherita Pizza 12'' Thin
£6.80
Garlic Margherita Pizza 12'' Deep
£7.80
Garlic Margherita Pizza 14'' Thin
£9.50
Spicy Meat Feast Pizza 09'' Deep
Flame grilled strips of donner, tandoori chicken, spicy beef, onions, peppers & green chillies
£6.90
Spicy Meat Feast Pizza 12'' Thin
Flame grilled strips of donner, tandoori chicken, spicy beef, onions, peppers & green chillies
£8.50
Spicy Meat Feast Pizza 12'' Deep
Flame grilled strips of donner, tandoori chicken, spicy beef, onions, peppers & green chillies
£8.90
Spicy Meat Feast Pizza 14'' Thin
Flame grilled strips of donner, tandoori chicken, spicy beef, onions, peppers & green chillies
£10.99
Asian Style Pizza 09'' Deep
Cheese, donner, tandoori chicken, onion, peppers, green chillies & garlic butter
£6.80
Asian Style Pizza 12'' Thin
Cheese, donner, tandoori chicken, onion, peppers, green chillies & garlic butter
£7.90
Asian Style Pizza 12'' Deep
Cheese, donner, tandoori chicken, onion, peppers, green chillies & garlic butter
£8.90
Asian Style Pizza 14'' Thin
Cheese, donner, tandoori chicken, onion, peppers, green chillies & garlic butter
£10.90
Donner Pizza 09'' Deep
Cheese & donner
£5.80
Donner Pizza 12'' Thin
Cheese & donner
£6.80
Donner Pizza 12'' Deep
Cheese & donner
£7.80
Donner Pizza 14'' Thin
Cheese & donner
£9.50
Chicken Delight Pizza 09'' Deep
Chicken, mushroom, onions, peppers & garlic butter
£6.80
Chicken Delight Pizza 12'' Thin
Chicken, mushroom, onions, peppers & garlic butter
£7.90
Chicken Delight Pizza 12'' Deep
Chicken, mushroom, onions, peppers & garlic butter
£8.90
Chicken Delight Pizza 14'' Thin
Chicken, mushroom, onions, peppers & garlic butter
£10.90
BBQ Chicken Pizza 09'' Deep
BBQ sauce, BBQ chicken, onions, peppers & garlic butter & drizzle BBQ Sauce
£6.80
BBQ Chicken Pizza 12'' Thin
BBQ sauce, BBQ chicken, onions, peppers & garlic butter & drizzle BBQ Sauce
£7.90
BBQ Chicken Pizza 12'' Deep
BBQ sauce, BBQ chicken, onions, peppers & garlic butter & drizzle BBQ Sauce
£8.90
BBQ Chicken Pizza 14'' Thin
BBQ sauce, BBQ chicken, onions, peppers & garlic butter & drizzle BBQ Sauce
£10.90
Pepperoni Supreme Pizza 09'' Deep
Pepperoni, onions, peppers, spicy beef & garlic butter
£6.80
Pepperoni Supreme Pizza 12'' Thin
Pepperoni, onions, peppers, spicy beef & garlic butter
£7.90
Pepperoni Supreme Pizza 12'' Deep
Pepperoni, onions, peppers, spicy beef & garlic butter
£8.90
Pepperoni Supreme Pizza 14'' Thin
Pepperoni, onions, peppers, spicy beef & garlic butter
£10.90
Garlic Bread with Cheese & Mushrooms 09'' Deep
£5.50
Garlic Bread with Cheese & Mushrooms 12'' Thin
£6.90
Garlic Bread with Cheese & Mushrooms 12'' Deep
£7.60
Garlic Bread with Cheese & Mushrooms 14'' Thin
£10.00
Garlic Bread with Tomato 09'' Deep
£4.70
Garlic Bread with Tomato 12'' Thin
£5.90
Garlic Bread with Tomato 12'' Deep
£6.80
Garlic Bread with Tomato 14'' Thin
£8.20
Garlic Bread with Cheese & Tomato 09'' Deep
£5.00
Garlic Bread with Cheese & Tomato 12'' Thin
£6.70
Garlic Bread with Cheese & Tomato 12'' Deep
£7.30
Garlic Bread with Cheese & Tomato 14'' Thin
£9.50
Garlic Bread with Cheese 09'' Deep
£4.90
Garlic Bread with Cheese 12'' Thin
£6.50
Garlic Bread with Cheese 12'' Deep
£7.00
Garlic Bread with Cheese 14'' Thin
£9.00
Parmesan Hot Shot
Pepperoni, peppers, chilli & garlic butter
£8.90
Parmesan BBQ Chicken
BBQ chicken, onions, peppers & garlic butter
£8.50
Parmesan Bolognese Hot Shot
Bolognese sauce, pepperoni, peppers, chilli & garlic butter
£8.90
Parmesan Tandoori Supreme
Tandoori chicken, onions, peppers & garlic butter
£8.90
Parmesan Ham & Pineapple
Turkey ham & pineapple
£8.50
Parmesan Funghi
Mushrooms & garlic butter
£7.90
Parmesan Meat Feast
Salami, pepperoni, chicken, spicy beef & garlic butter
£8.90
Chicken Tikka & Chips Medium
£4.50
Chicken Tikka & Chips Large
£5.50
Mixed Kebab & Chips Medium
Donner meat & chicken tikka
£5.00
Mixed Kebab & Chips Large
Donner meat & chicken tikka
£6.00
Seekh Kebab & Chips Medium (2 Pcs)
£4.20
Seekh Kebab & Chips Large (3 Pcs)
£5.00
Masala Fish & Chips Medium (4 Pcs)
£6.00
Masala Fish & Chips Large (6 Pcs)
£7.50
Donner Meat Tray (No Chips) Medium
£4.20
Donner Meat Tray (No Chips) Large
£5.00
Donner Meat & Chips Medium
£4.20
Donner Meat & Chips Large
£5.00
King Kebab
XL donner kebab
£7.99
Mixed Kebab in Pitta Medium
Donner & chicken tikka
£5.00
Mixed Kebab in Pitta Large
Donner & chicken tikka
£6.00
Chicken Tikka Kebab Medium
£4.50
Chicken Tikka Kebab Large
£5.50
Premier's Special Kebab
Donner, chicken tikka & seekh kebab
£7.50
Masala Fish on Naan (6 Pcs)
£8.00
Chicken Tikka Kebab on Naan
£6.50
Seekh Kebab on Naan (3 Pcs)
£6.00
Mixed Kebab on Naan
Donner meat & chicken tikka
£6.50
Combo Wrap
Chicken fillet & donner meat
£5.00
Mexican Wrap
Chicken, fried onions, peppers, jalapenos & mushrooms
£5.00
American Burger Quarter Pounder
Cheese burger topped with fried onion
£4.20
American Burger Half Pounder
Cheese burger topped with fried onion
£4.99
Spicy Chicken Fillet Burger - Half Pounder
100% Chicken breast with cheese & mayo
£5.90
Triple H Burger
Hits hunger hard. Triple cheese & triple beef patties
£6.50
Hawaiian Burger Quarter Pounder
Cheese burger with sweet juice chunks of pineapple
£4.20
Hawaiian Burger Half Pounder
Cheese burger with sweet juice chunks of pineapple
£4.99
Chicken Burger Quarter Pounder
With salad & mayo
£4.20
Chicken Burger Half Pounder
With salad & mayo
£4.99
Cheese Burger Quarter Pounder
£4.20
Cheese Burger Half Pounder
£4.99
Vegetable Burger Quarter Pounder
Veggie patty
£4.20
Vegetable Burger Half Pounder
Veggie patty
£4.99
Combo Burger
Cheeseburger & spicy chicken fillet burger in one
£6.50
Ringo Burger Quarter Pounder
Cheese burger topped with onion rings
£4.50
Ringo Burger Half Pounder
Cheese burger topped with onion rings
£5.90
Fillet O Fish Burger Quarter Pounder
With cheese & mayo
£4.20
Fillet O Fish Burger Half Pounder
With cheese & mayo
£4.99
Special Burger Quarter Pounder
Cheese burger with donner meat
£4.50
Special Burger Half Pounder
Cheese burger with donner meat
£5.90
Hot Chilli Burger Quarter Pounder
Cheese burger with chilli sauce & jalapenos
£4.50
Hot Chilli Burger Half Pounder
Cheese burger with chilli sauce & jalapenos
£5.90
Tower Burger Quarter Pounder
Chicken burger topped with hash brown, cheese & mayo
£4.50
Tower Burger Half Pounder
Chicken burger topped with hash brown, cheese & mayo
£5.90
BBQ Chicken Burger Quarter Pounder
With cheese & BBQ sauce
£4.20
BBQ Chicken Burger Half Pounder
With cheese & BBQ sauce
£4.99
BBQ Beef Burger Quarter Pounder
Cheese burger with BBQ sauce
£4.20
BBQ Beef Burger Half Pounder
Cheese burger with BBQ sauce
£4.99
Garlic Cheese Burger Quarter Pounder
Topped with cheese & garlic butter
£4.20
Garlic Cheese Burger Half Pounder
Topped with cheese & garlic butter
£4.99
Plain Burger Quarter Pounder
£4.00
Plain Burger Half Pounder
£4.50
Spicy Chicken Fillet Burger - Quarter Pounder
100% Chicken breast with cheese & mayo
£4.50
Peri Peri Chicken Fillet Burger Quarter Pounder
100% Chicken breast with cheese & mayo
£4.50
Peri Peri Chicken Fillet Burger Half Pounder
100% Chicken breast with cheese & mayo
£5.90
Donner Burger Quarter Pounder
Donner meat served in a seeded bun with mayo & chilli sauce
£4.20
Donner Burger Half Pounder
Donner meat served in a seeded bun with mayo & chilli sauce
£4.99
Mushroom Melt Burger
Topped with sauteed mushroom & salad
£5.50
Jalapeno Burger
Topped with jalapenos & salad
£5.50
American Burger
Topped with fried onions & salad
£5.50
Daddy Burger
Topped with fried onions, mushrooms, jalapenos, peppers & salad
£6.50
Ringo Gourmet Burger
Topped with onion rings & salad
£5.50
Death by Pepperoni Burger
Topped with pepperoni & salad
£5.50
Cheese Burger
Topped with cheese & salad
£5.50
Kids Chicken Bites (4 Pcs)
£4.00
Kids Fish Fingers (4 Pcs)
£4.00
Kids Chicken Nuggets (5 Pcs)
£4.00
Kids Chicken Strips (2 Pcs)
£4.00
Cheesy Fries (Extra Large)
£3.95
Chicken Strips & Chips (6 Pcs)
£6.00
Veg Samosa (2 Pcs)
Served with salad & sauce
£2.40
Spicy Wings (4 Pcs) & Chips
£4.50
Potato Wedges
Oven baked & served with your choice of dip
£2.90
Spicy Chicken Wings (6 Pcs)
Served with salad & your choice of dip
£3.50
Chicken Strips & Chips (4 Pcs)
Oven roasted, served with fresh salad & your choice of dip
£4.00
Meat Samosa (2 Pcs)
Served with salad & sauce
£2.40
Seekh Kebab (2 Pcs)
Served with salad & sauce
£2.60
Pitta Cheese Salad
Pitta bread stuffed with salad & topped with a sprinkle of cheese
£2.80
Mediterranean Chicken Salad
Succulent flame grilled chicken breast served on a side salad with a sprinkle of cheese
£4.99
Mediterranean Tuna Salad
Tuna served on a side salad with a sprinkle of cheese
£4.99
Side Salad
Lettuce, tomatoes, red onions, peppers, olives & sweetcorn
£2.60
Asian Style Calzone
Cheese, donner meat, chicken tikka, onions, peppers, garlic butter & green chillies
£7.90
Donner Calzone
Cheese & donner meat
£7.90
Hot Shot Calzone
Cheese, salami, pepperoni, mushroom, green peppers, garlic butter & chilli powder
£7.90
BBQ Chicken Calzone
Cheese, BBQ chicken, onions, peppers & garlic butter
£7.90
Meat Feast Calzone
Cheese, donner meat, pepperoni, salami, chicken, turkey ham & garlic butter
£7.90
Ben & Jerry's 500ml Chocolate Cookie Dough Ben & Jerry's 500ml
£5.99
Ben & Jerry's 500ml Chocolate Fudge Brownie Ben & Jerry's 500ml
£5.99
Gelato Milkshakes (New) 16oz Bubble Gum Gelato Milkshake 16oz
£3.90
Gelato Milkshakes (New) 16oz Chocolate Delight Gelato Milkshake 16oz
£3.90
Gelato Milkshakes (New) 16oz Heavenly Vanilla Gelato Milkshake 16oz
£3.90
Gelato Milkshakes (New) 16oz Strawberry Sensation Gelato Milkshake 16oz
£3.90
Chocolate Bar Milkshakes 16oz Aero Mint Chocolate Bar Milkshake 16oz
£3.90
Chocolate Bar Milkshakes 16oz Bounty Chocolate Bar Milkshakes 16oz
£3.90
Chocolate Bar Milkshakes 16oz Cadbury's Flake Chocolate Bar Milkshakes 16oz
£3.90
Chocolate Bar Milkshakes 16oz Crunchy Chocolate Bar Milkshakes 16oz
£3.90
Chocolate Bar Milkshakes 16oz Ferrero Rocher Chocolate Bar Milkshakes 16oz
£3.90
Chocolate Bar Milkshakes 16oz Galaxy Chocolate Bar Milkshakes 16oz
£3.90
Chocolate Bar Milkshakes 16oz Kinder Bueno Chocolate Bar Milkshakes 16oz
£3.90
Chocolate Bar Milkshakes 16oz Mars Bar Chocolate Bar Milkshakes 16oz
£3.90
Chocolate Bar Milkshakes 16oz Milky Bar Chocolate Bar Milkshakes 16oz
£3.90
Chocolate Bar Milkshakes 16oz Oreo Cookie Chocolate Bar Milkshakes 16oz
£3.90
Chocolate Bar Milkshakes 16oz Snickers Chocolate Bar Milkshakes 16oz
£3.90
Ben & Jerry's (500ml) Chocolate Fudge Brownie Ben & Jerry's (500ml)
£5.99
Ben & Jerry's (500ml) Cookie Dough Ben & Jerry's (500ml)
£5.99
Family Pack
10 Pcs chicken, 4 fries & large bottle of pepsi
£16.00
Contact Us
Find Us
23-25 Raynville Road, Leeds, LS122TE
We deliver to
LS1, LS11, LS12, LS13, LS18, LS2, LS27, LS28, LS3, LS4, LS5, LS6